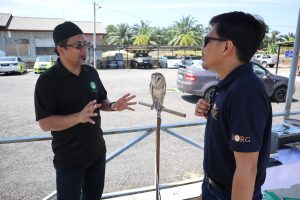 The Malaysian Palm Oil Green Conservation Foundation (MPOGCF) has launched the Barn Owl for Oil Palm Smallholders Initiatives (BOSI). MPOGCF is working closely with Universiti Sains Malaysia (USM) Barn Owl Research Group (BORG) to promote an effective and environmentally friendly approach to integrated pest management in oil palm plantations among smallholders.
The barn owl, known by its scientific name Tyto alba javanica, has been widely proven to be highly effective in biological control of pests in oil palm plantations. BOSI is a project that sees the handing over and installation of nest- boxes designed to attract barn owls to live there.
Through the BOSI programme, smallholders will not only effectively reduce the rat population, but also minimise the use of rodenticides, which are known to have harmful chemical effects on biodiversity in oil palm plantations.
We believe that conservation should not only protect the environment, but also support the livelihoods of local communities. This is what makes our programme truly sustainable.